Free Online Parenting Event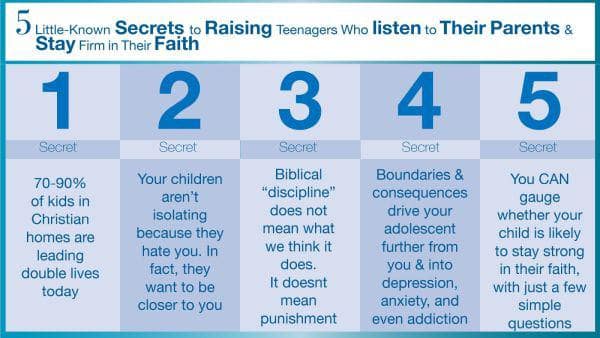 5 Little-Known Secrets to Raising Adolescents Who Will Listen to Their Parents More Than the World and Stay Firm in Their Faith
Proven, Biblically-Based Principles to Help Your 9-18 year old Succeed and Your Family to Thrive

Watch or read on so you don't miss out on this opportunity to transform your relationship with your children or grandchildren.
Dear Parents and or Grandparents of an Adolescent (9-18),
Your child is changing rapidly.
And it's happening on more than just a physical level.
Every day, your adolescent faces:
– Intense outside pressure from friends…
– Social media's pull and…
– Incredible temptations– sexual sin, drugs, experimentation, and more
They face overwhelming natural stressors, your most significant fears…and worse.
The result?
Your son, daughter, grandson or granddaughter–is at severe risk for falling into traps with long-lasting, damaging consequences that can have (great) negative effects on both of your lives…now and in the future.
That's why I want to share the 5 little-known secrets that can help you raise adolescents who will thrive, listen to you, obey you…and stay strong in their faith.
But before I share these secrets with you, I'd like to let you in on a devastating reality.
The fact is, 80% of Christian teens leave the faith when they leave home.
It's devastating.
It's tragic.
It's not necessary.
Whether your adolescent is angry, depressed, off-track, or disrespectful….or they go to Youth Group every week and get straight A's….they are at risk.
Whether you see it, learn it, or notice it, it's a reality.
No child is exempt from this statistic–and no parent.
How do I know this?
I've spent the last 15 years researching thousands of Christian families with adolescents.
And what I've found has absolutely shocked me–in both good ways and bad.
Let me explain.
Not only have I been able to identify the deep roots of issues that plague adolescents today–like anger, isolation, screen addiction, and sexual sin–I've been able to develop proven, Biblically-based strategies for helping parents to succeed in raising strong, healthy, connected adolescents who love God.
You won't find these strategies anywhere else. Many of them even seem to be counterintuitive.
But the reality is, these strategies work.
You'll find them in my FREE online parent course–Influential Parenting Academy.
I'd like to tell you more about Influential Parenting Academy…and how it might completely transform your family.
But first, I'd like to share with you the transformational and little-known secret for raising adolescents who actually listen to you, want to spend time with you, and most importantly, stay strong in their Christian faith.
Secret #1: 70-90% of kids in Christian homes are leading double lives.
If your child is attending church with you on Sunday, doing their homework, and even spending time with other adolescents from Christian homes, you may be shocked to learn that they're likely leading a double life.
Sex
Drugs
Partying
Marijuana
Addiction to alcohol
Pornography
Dangerous friendships
Inappropriate behavior
Addiction to the phone and/or social media
…..can all be easily hidden from parents–even attentive, involved parents.
And I've discovered that teenagers are excellent at duplicity.
In Influential Parenting Academy, I'll help you discover if your kids are leading double lives with an easy survey.
What's the most common reaction from parents from this survey? "It's true, and I never knew."
Should you discover your child rates as "at risk," I won't leave you hanging. You'll also learn powerful strategies for helping your child to feel safe being transparent with you…and how to help them get out of a harmful lifestyle.
Secret #2: Your children aren't isolating because they hate you. In fact, they want to be closer to you.
Does this scenario sound familiar?
Your son or daughter has shut their bedroom door and won't come out. Playing video games, scrolling through social media, on YouTube or texting their friends, they've shut you out completely.
You think, My child must hate me.
They may have even said it.
I'm here to tell you a different story.
After talking to thousands of children aged 9-18 over the past 15 years, I've found a game-changing truth: Your children want to be closer to you.
Kids hide in their room because they're tired of conflict–not because they don't want to connect.
Again, you'll learn how to form deep heart connections and get back the relationship you once had in Influential Parenting Academy.
Secret #3: Biblical "discipline" doesn't mean what you think it does.


 You've probably read the word "discipline" many times in Scripture.
To learn, you must love discipline; it is stupid to hate correction. (Proverbs 12:1 NLT)
Or…
Discipline your children, and they will give you peace; they will bring you the delights you desire. (Proverbs 29:17 NIV)
But one of the most famous contexts for discipline is what we read in Psalm 23:
I will fear no evil, for you are with me; your rod and your staff, they comfort me. (Psalm 23:4b)
If "rod and staff" bring to mind punishment, however, think again.
From a Biblical perspective, discipline does not equal the punishment that many parents practice.
Not in the Proverbs, or Psalm 23, or anywhere else in Scripture.
Discipline is actually the root of discipleship. In Biblical times, discipline meant up-bringing, to train, to educate, to give advice or teach–not punish.
In Psalm 23, the rod is used to beat the wolves that eat the sheep. In other words, the rod is used to protect the sheep from danger.
And the staff?
The staff is used to rescue sheep from falling off a cliff or to reach them if they've fallen into the mud or water.
Disciplining your child is not about punishing them when they screw up. It's about guiding them carefully, so that they make wise decisions and actually come to want to follow you–just like the 5,000  who chased Jesus around the lake.
Secret #4: Counterintuitive: Boundaries and consequences can drive your adolescent further from you and into depression, anxiety, and addiction.
 This is a hard-to-learn secret–but hear me out.
 1 in 5 teens will experience depression before they reach adulthood.[1]
1 in 3 teens will struggle with some sort of anxiety disorder.[2]
And 40% of teens have tried illegal drugs at least once.[3]
My genuine prayer is that your teen never goes through any of the above.
But if he or she does, my research shows that stricter rules and boundaries are not the solution for protecting your teenager. In fact recent research indicates that the parent child relationship that protects our kids more than anything else.
In fact, your teen may become even more depressed, anxious, addicted, and angry when you draw heavy lines and use consequences to motivate them.
In Influential Parenting Academy, you'll learn how to shepherd your adolescent through the influence of the world and the risks of depression, anxiety, and addiction–helping them avoid common traps that are robbing so many adolescents of joy and purpose.
You'll discover how you won't have to be over-strict with boundaries and consequences, to achieve even better results.
Secret #5: You CAN gauge whether your child is likely to stay strong in their faith, with just a few simple questions.
 Parents often come to me and say,
Jeff, I feel at times a failure or feel totally helpless. How do I know if my kids will stay strong in the Lord after they leave our house?
 The truth is, you CAN gauge whether or not your child is likely to stay strong in the Christian faith.
Relying on my years of research and thousands of interviews, I've developed a powerful survey that measures your teenager's risk factor for leaving the faith.
Here's a sample of the insight produced by just one of the questions:
Ultimately, the survey will produce a score that blows your mind: A comprehensive rating that may surprise you on how "at risk" your child is for walking away from God–and gives you actionable strategy on how to reduce risk.
Conflict, stress, and turmoil with our adolescents don't have to be normal.
The truth is, kids have a deep, internal desire to please and connect with their parents.
You can activate that desire–and transform your family.
But you need to know what's really going on with your teen…and how to build a relationship and environment that will motivate your teenager to change.
Influential Parenting Academy is my FREE online course that reveals groundbreaking strategies for parenting teenagers who are positive, motivated, and helpful.
In this 15-video course, I'll reveal:
5 shocking, research-based insights on teenagers, parenting, and faith….what I've discovered after a decade-plus of talking to thousands of parents and children 
4 actionable strategies for resolving conflict with your teenager…and how to create a harmonious home 
Easy ways to gauge if your teenager has a "secret life"….and what to do if you discover they do 
The #1 common mistake I see nearly every parent making….and how it wreaks havoc on homes
And much more…
Again, this course is absolutely FREE, no obligation.
You'll also get your very own downloadable audio book Influential Parenting course as well as Implementation Process Guide–absolutely free.
And, once you complete the course, you'll have access to ongoing parent support phone calls…so that you can continue receiving the support you need to parent your child well.
Please, don't miss this opportunity to transform your family.
  YES! I want to learn actionable, Biblically-based strategies for parenting my teenage child…helping them to avoid dangerous traps that most teenagers fall into…. and encouraging lasting, Christ-centered transformation. Sign me up for Jeff's FREE online course today.